CASA Receives $10k from Salina Area United Way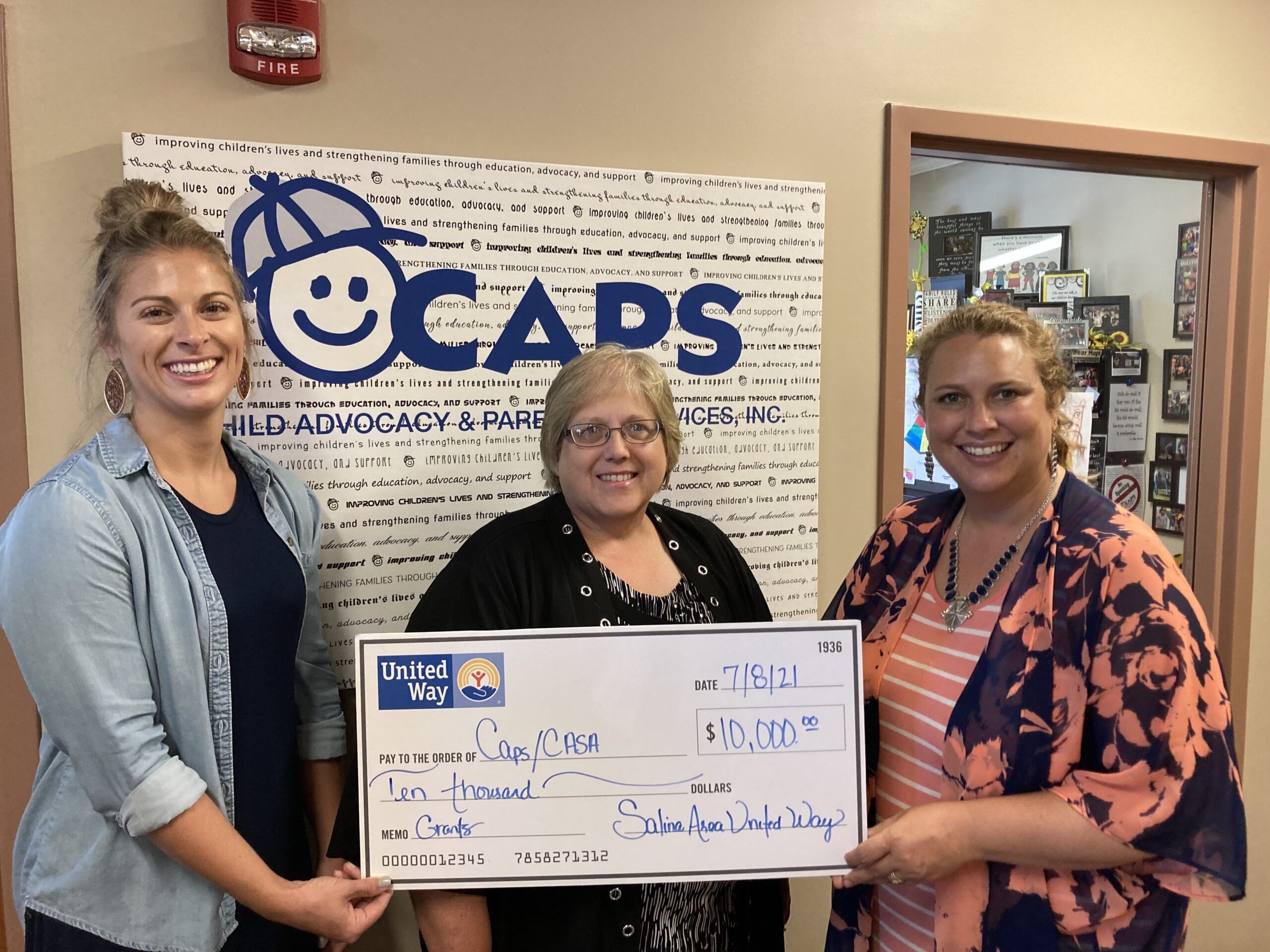 Salina Area United Way dropped by the office to present a check to the Ottawa & Saline County CASA Program! Ottawa & Saline County CASA, a program of CAPS, is a recipient of one of Salina Area United Way's 2021 Make A Difference Grants.
Left – Right: Claire Mullen, Salina Area United Way Executive Director; Angela Owens, Ottawa & Saline County CASA Program Director; and Lori Blake, CAPS Executive Director.
From the Salina Area United Way:
Salina Area United Way Awards Make A Difference Grants for 2021
Salina, KS – Salina Area United Way awards $105,000 in Make A Difference Grants to 13 community partners.  Grant recipients are organizations Strengthening Our Community through Health, Education, and Financial Stability.
"We are thrilled to be able to fund 13 agencies in our communities working to Make A Difference.  These agencies are working tirelessly to address needs in our communities", said Claire Mullen, Executive Director for the Salina Area United Way.  "Let's keep working to Build Bridges and LIVE UNITED." 
In order to ensure that donor dollars are invested where they will have the greatest community impact, grants are awarded on how well programs fit within community and organization goals.  The Salina Area United Way mission is to Strengthen Our Community. The community goals are:
Health:  Increase the number of youth and adults who are healthy and avoiding risky behavior
Education:  Raise the graduation rate
Financial Stability:  Increase the number of families who are financially stable
"Nonprofits in our 10-county service area are doing incredible work," said Grant Chair Margaret Dixon. "We can make these awards thanks to the generous support of our community. Please know that every donation counts. All of us, working together, can make a difference," Dixon added.
Grant awards are based on an analysis of how well programs match United Way's Community Goals, the ability to meet community needs, organization budget, financial accountability, and plans for service and management.  Volunteers on the SAUW Grant Committee reviewed 17 applications. The total amount of requests was over $139,000. All funding recommendations were reviewed and approved by the Salina Area United Way Board of Directors.
Read the full press release here.